Faculty Receive Inclusion Imperative Funding to Transform their Courses in 2020-21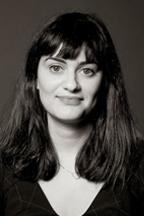 Tamara Bhalla
Associate Professor of American Studies
"A Pilot Exploration of Asian American Studies and Public Humanities at the Smithsonian National Museum of American History"
Dr. Bhalla's grant will support the transformation of a popular course in the American Studies department, Studies in Asian American Culture, into one that engages the public humanities. This revised course will aim to take students out of the classroom to see the public impact of Asian American studies. In collaboration with Dr. Theo Gonzalves, curator of Asian Pacific American History in the Division of Cultural and Community Life at the Smithsonian's National Museum of American History (NMAH), and Dr. Philippa Rappoport, Manager of Community Engagement at the Smithsonian Center for Learning and Digital Access, Dr. Bhalla will restructure the course content to include student-led programming, bringing together Asian American studies, public humanities, public history, critical theory, and career development. Students will also utilize the popular Smithsonian Learning Lab to create and share their own digital source collections.
Tania Lizarazo 
Assistant Professor of Modern Language, Linguistics and Intercultural Communication
"Global Stories"
Dr. Lizarazo's grant will support the creation of a class on global stories that builds on a critical and interdisciplinary understanding of global issues through digital storytelling (DS). Understanding DS as both an example of digital humanities and a method for community-based research, this class will allow students to gain skills to consume and produce stories in a collaborative setting, aligning with 'UMBC's commitment to civic engagement and Global Studies' critical approach to technology and global-local interconnectedness. Students will also learn from guest lecturers and local community organizers to build knowledge about communities, such as immigrants, deportees, LGBTQ+, and Latinas, who are traditionally underrepresented in UMBC's syllabi and demographics.