Learning Across Difference: An Interviewing Workshop
April 26, 2019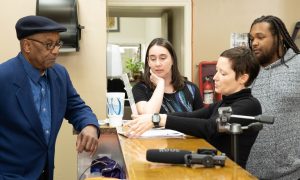 Telling a good story is at the heart of public scholarship and builds the skills of listening across difference, which is central to addressing issues of justice and equity. In this HTLab, Nicole King, Associate Professor and Chair of the UMBC Department of American Studies, explored how to organize cultural documentation projects, ask good questions, and construct engaging narratives. Participants learned from projects that blend interview techniques from oral history (recollections of the past) to ethnography (life histories and cultural studies), as well as more journalistic "on the street" interviews and document analysis as ways to better listen to a place. The HTLab also addressed the duality of listening to the streets while also seeking transparency from those in power, which can produce important and actionable qualitative studies.
Dr. King's current research and teaching include the Baltimore Traces: Communities in Transition project, where students research historic places in downtown Baltimore and complete oral history interviews focused on preserving the opinions of those who live, work, and play downtown. Dr. King is also currently co-editing Baltimore Revisited: Rethinking and Remaking a Right to the City, a collection of articles on Baltimore's social history for Rutgers University Press.
---
Introduction to NVivo
March 11, 2019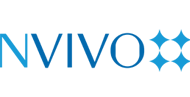 In this HTLab, Claude-Julie Bourque demonstrated how NVivo 12 data analysis software can be used in humanities and social sciences research. The concepts and procedures are easy to adapt in fields such as history, communications, linguistics, sociology, anthropology, psychology, education, and with multidisciplinary and interdisciplinary projects. NVivo also supports a range of qualitative approaches, such as grounded theory, discourse analysis, thematic content analysis, historiography, and evaluative strategies, as well as mixed methods approaches.
The workshop focused on the basic principles of using NVivo, including how to transcribe, code, analyze, and catalog different types of data, and how to pull out research themes for further analysis.
Dr. Bourque is an NVivo expert trainer and Research Professor at the University of Montreal. The NVivo HTLab was co-sponsored by the Dresher Center for the Humanities and the Center for Social Science Scholarship, UMBC.
---
Choose Your Adventure: Using Twine in Humanities Projects
March 1, 2019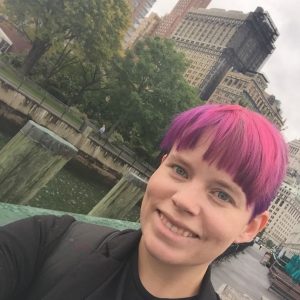 Participants literally chose their own adventures as Anastasia Salter led an HTLab on Twine, an open source, user-friendly tool for telling interactive, nonlinear stories. Faculty learned how to create their own interactive stories that included text, images, and choice-based dynamic elements. Used by makers of games, hypertext novels, and other forms of interactive narratives, Twine can inspire students to build and enact connections in course content, while also connecting with broader communities of creators and gamers.
Dr. Salter, Associate Professor and Interim Assistant Director of Games and Interactive Media at University of Central Florida, provided examples and how-to-use guides for getting started with Twine. She is the author of several books and many articles on game design and culture, including Toxic Geek Masculinity in Media (Palgrave Macmillan 2017, coauthored with Bridget Blodgett), Jane Jensen: Gabriel Knight, Adventure Games, Hidden Objects (Bloomsbury 2017), and What is Your Quest? From Adventure Games to Interactive Books (University of Iowa Press, 2014).
To learn more about Twine, click here.
---
From Personal to Collective: Using Digital Storytelling to Unlock Grassroots Knowledge
February 7-8, 2019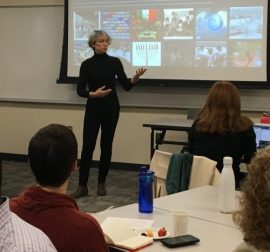 Psychologist Jerome Bruner said that narrative is a "principle by which people organize their experience in, knowledge about, and transactions with the social world." Stories make information more understandable, memorable, and persuasive, unlocking grassroots knowledge and using the power of emotions to shape decisions. Digital storytelling has also emerged as an effective action research method to engage communities in collective participation and action, grounded in their sense of place and their distinctive cultural knowledge. As a tool, digital storytelling can challenge hierarchies of expertise, amplify unheard voices, and convey important emotions.
Antonia Liguori, Lecturer in Applied Storytelling at Loughborough University (UK) and Arts and Humanities Research Council (AHRC) Fellow, led this two-part HTLab on digital storytelling for community engagement. On February 7th, Dr. Liguori presented a public talk on developing digital storytelling projects that foster collective knowledge production and activism. She offered insights into the potential for digital storytelling to unlock shared knowledge and address critical issues such as climate change, public health, and refugee rights. She also shared a recent project that combined digital storytelling with songwriting as a way of translating individual stories about people's relationship to place into something meaningful for the whole community. Watch Dr. Liguori's talk in full here.
Then, in a hands-on workshop on February 8th, participants learned the key elements of digital storytelling, focusing on questions of inclusion and justice. They practiced storyboarding, edited audio/visual materials, and discussed how narrative structure and modes of storytelling vary in the diverse culture contexts in which we work and live.
The Smithsonian Center for Learning and Digital Access was a partner in this HTLab.
---
Smithsonian Teaching Lab
September 14, 2018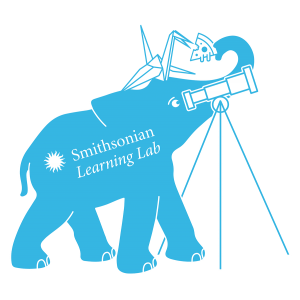 Participants in this HTLab learned how to use the Smithsonian Learning Lab in their teaching.
The Smithsonian Learning Lab puts the treasures of the world's largest museum, education, and research complex within reach. The Learning Lab is a free, interactive platform for discovering millions of authentic digital resources, creating content with online tools, and sharing in the Smithsonian's expansive community of knowledge and learning.
HTLab partners included the Smithsonian Center for Learning and Digital Access and Montgomery College.