Poetic Echoes, Living Futures: Teaching Black Studies with Chicory Magazine
Friday, November 18, 2022
Dr. Mary Rizzo, Associate Professor of History at Rutgers University-Newark and co-founder of the Chicory Revitalization Project, Slangston Hughes, Artistic Director of DewMore, Rejjia Camphor, creative writing instructor at Writers in Baltimore Schools, A'niya Taylor, poet and co-leader of the organization City Bloc, and Taye Caldwell, writer, led a workshop centered on making public humanities projects that center community voices. The workshop highlighted Chicory as a resource for local history and Black studies, and explored poetry as a tool for examining the relationship between past, present and place.
Click HERE for resources distributed at this HTLab.
____________________________________________________________________________________________
Decolonizing Our Assessment Practices:  Designing Multimodal Assignments within an Antiracist Framework 
Friday, October 28, 2022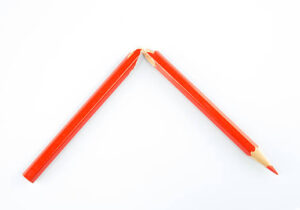 Dr. Marina del Sol, Master Instructor at Howard University, led a workshop focused on methods for constructing assignments and assessment practices that decolonize traditional, hierarchical ways of teaching and learning. It explored multimodal assignment formats that engaged with the digital humanities (e.g., visual annotated bibliography using a StoryMap, video reviews, visual pre-writing, wireframing, etc.) from an anti-racist pedagogical framework. The workshop focused on discussing theoretically informed assessment practices that center the experiences and voices of Black, Indigenous, and People of Color (BIPOC) students.
Visit the HTLab Resources Page (Guides and Templates) to find slides, rubrics, prompts and other activities from this lab.
___________________________________________________________________________________________________________
Humanities Action Labs
March 3 and March 31, 2023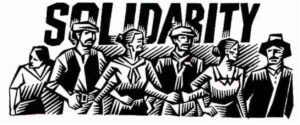 Part I: How to Build Solidarity Through Storytelling
Humanities Action Lab's (HAL) Learning & Coalition Facilitator Leora Fuller led a panel of six aid organizers, discussing the concept and practices of "mutual aid storytelling." This idea recognizes that sharing both basic and complex stories about our lives is crucial to getting to know the needs of those around us, connecting how these needs are shared, mutually supporting each other in meeting them, and building solidarity to fight for systemic change. Organizers from Mutual Morris  (Newark, NJ), Ocho Semillas (San Joaquin Valley, CA) and Mi María: Project (Puerto Rico) discussed the unique ways they had reoriented public history to focus on intra-community stories, raising issues ranging from clean water access to immigrant laborer's rights.
Visit the HTLabs Resources page to read "To Those Who Keep Showing Up," from Brenda Angelica Gutierrez Mora (Ocho Semillas) as well as slides shared by Ricia Anne Chansky and Aleyschka Estevez Quintana of The Oral History Lab @ UPRM. Learn more about Mutual Morris of Morris County, NJ here.
Part II: Cultivating Mutually Supportive Learning Relationships Through Mutual Mentorship
Co-facilitated by HAL's Leora Fuller, Mastress of the Workers Revolutionary Collective (Philadelphia), and Melody Magly of Brick City Mutual Aid (Newark), this workshop centered the idea of "mutual mentorship" as a way to build mutually supportive learning relationships in our classrooms, organizations, and the rest of our lives. Participants included members of the UMBC community as well as community fellows from the Baltimore Field School and other partners. This workshop unpacked the idea of mutual mentorship, discussed aspirations and obstacles for doing community-engaged work, and imagines specific ways to dismantle personal and institutional barriers and ignite future collaborations. Following the workshop, Mastress compiled the attendees' whiteboard and post-it brainstorming sessions into a set of beautiful Canva graphics found HERE.
___________________________________________________________________________________________________________
Teaching in Partnership: Building Shared Knowledge Communities in the Humanities
Friday, April 28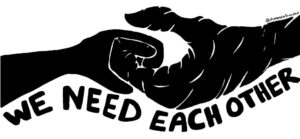 UMBC Professors Keegan Finberg (English) Tania Lizarazo (MLLI), and Elaine MacDougall (English, Writing Center) led a workshop on their experiences teaching transformed and community-engaged courses through the HTLabs Course Transformation Grant program, which awards seed funding to UMBC faculty. These faculty shared exercises and materials from their three transformed classed, titled "Baltimore Poetry and Politics", "Global Stories," and "Telling Our (Counter) Stories," respectively. They also identified the challenges of teaching in partnership and helped participants think about ways to transform their courses in the long, near, and short terms. Attendees also reflected on the past six years of HTLabs and the lessons learned from almost thirty labs. Resources from this lab are in the "Presentations" section of the Resources page.