Inclusion Imperative Humanities Symposium
March 26, 2021
Theme: Uncomfortable Conversations: Race, The Humanities, and Inclusion in Higher Education
Host: Howard University Office of Faculty Development
Watch the Symposium sessions here (click on session links) and view the program and other resources.
In interactive panel discussions and lightning round sessions, presenters from Inclusion Imperative partners UMBC, Howard University, and Bowie State University, along with faculty from Marymount University, Muhlenberg College, and University of Maryland-Baltimore, tackled diverse and wide-ranging topics, such as "The Original Sin: The 1619/1776 Debate and African American History," "Looking in the Mirror: Increasing the Number of Faculty and Administrators from Underrepresented Communities," "Disability and Racial Justice: Critical Intersections and Dialogues," and "Open Educational Resources: Inclusion and Equity and Action."
Student voices were foregrounded on panels and in readings by Howard University students. In all, 80 faculty and administrators from institutions in Maryland, the District of Columbia, Pennsylvania, and Virginia attended the one-day Symposium. Presenters included UMBC faculty from English; Gender, Women's, + Sexuality Studies; Music, and Dance.

---
UMBC Education Department's Equity and Excellence Lecture
October 12, 2020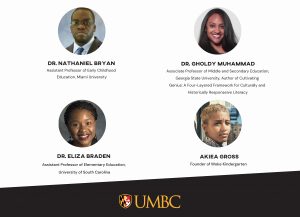 The Inclusion Imperative's Diversity Teaching Network was pleased to co-sponsor the Education Department's annual Equity and Excellence Lecture. The talk, titled "Cultivating Genius By Addressing Anti-Blackness In Classrooms," featured the following distinguished panelists:
Dr. Nathaniel Bryan – Assistant Professor of Early Childhood Education, Miami University
Dr. Gholdy Muhammad – Associate Professor of Middle and Secondary Education, Georgia State University, Author of Cultivating Genius: A Four-Layered Framework for Culturally and Historically Responsive Literacy
Dr. Eliza Braden – Assistant Professor of Elementary Education, University of South Carolina
Akiea Gross – Founder of Woke Kindergarten
The panelists addressed the topic of anti-Blackness in classrooms, sharing perspectives from early childhood, elementary, and middle/secondary classroom contexts, and brought a wealth of expertise informed by their own research and teaching. A recording of the lecture can be found here.
---
2020 Hill-Robinson McNair Lecture
September 17, 2020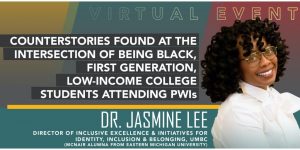 The Inclusion Imperative's Diversity Teaching Network was pleased to co-sponsor the second annual Hill-Robinson McNair Lecture. Dr. Jasmine Lee, Director of Inclusive Excellence & Initiatives for Identity, Inclusion and Belonging at UMBC, presented her talk, "Counterstories found at the intersection of being Black, first-generation, low-income college students attending PWIs." Dr. Lee, an alumna of Eastern Michigan University and former McNair scholar, discussed a study using Critical Race Theory to examine academic resilience in the face of daily and historical challenges on the part of Black, low-income students in Universities and post-secondary institutions. A recording of the lecture can be found here.
Anti-Racism and Action: Our Roles Now
Health Disparities and COVID-19
September 11, 2020
In this third drop-in session of the Anti-Racism and Action series, we discussed Health Disparities and COVID-19. COVID-19 is yet another phenomenon where people experience tragic neglect and mistreatment that reveal structural inequities caused by racist systems. We discussed research efforts by faculty to help policymakers and other stakeholders see how the dynamics of a racialized society produce such deleterious effects. In addition to specific projects, the discussion was oriented toward further defining the unique and critical role university-based research can have in meeting the challenges or the pandemic.