Online Teaching: Hits and Misses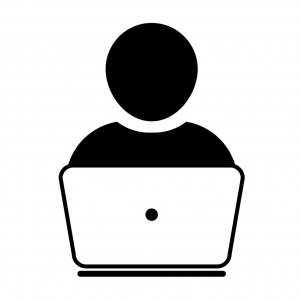 May 14, 2020
In the program's first virtual HTLab, participants shared their hits, misses, questions and quandaries during an hour-long virtual discussion facilitated by Dr. Lindsay DiCuirci. We heard from Dr. Sarah Fouts (American Studies), Dr. Blake Francis (Philosophy), and Dr. Timothy Phin (Ancient Studies) in addition to many participants who shared what worked well in the switch to online teaching and what they might change in anticipation of Fall 2020. The slides for the session, including the prompting questions for discussion, can be accessed here. Beyond simply sharing technological tools, participants also stressed the importance of holding space for student's questions and anxieties as well as student's need to connect on subjects outside of class discussion. Dr. Carol McCann shared this Final Learning Analysis prompt from her Gender, Women's, + Sexuality Studies Course, which encourages students to reflect on their experience of the course itself beyond learning outcomes. The discussants also shared recommended reading from Dr. Cathy Davidson on the subject of Trauma-Informed Pedagogy and this helpful reflection from Dr. Michelle Miller on 5 Takeaways from Remote Teaching.
Below are a list of resources that participants recommended during the lab. For fuller descriptions of these resources, visit the HTLab Resources Page and stay tuned for video tutorials, guides, and prompts for implementing these tools.
Resources for Engaging Students in Online Learning
Mentimeter for polling and other feedback tools
Slack for organizing class discussion
Flipgrid for recording and sharing short video responses
VoiceThread for recording, sharing, and commenting on presentations and oral assessments
Web.hypothes.is for social reading and collaborative annotation (Here's a tip for integrating this tool with Blackboard).
Panopto for recording and sharing short video lectures (Here's a tip on integrating Panopto with Blackboard Ultra)
_______________________________________________________________________________________________
Haunted Scholarship: Using Born-Digital Writing and Experimental Digital Projects in the Humanities Classroom
February 6-7
On Thursday, February 6, Dr. Marisa Parham, Professor of English at Amherst College and director of the Immersive Reality Lab for the Humanities, delivered a talk titled, "Breaking, Dancing, and Making Black Lives in the Digital Humanities" based on an experimental digital project titled .break .dance published in an experimental digital journal smallaxe. Parham's project seeks to capture "the underside of thought," and is especially keyed into how digital projects that more effectively "hew to your own story." You can watch Parham's talk in full here.
Then on Friday, February 7, Dr. Parham led a hands-on workshop on using Scalar, Tumult Hype, Twine and Scrivener to compose born-digital essays, projects, maps, stories, games, and blogs. Parham demonstrated how non-linear and more experimental composing tools allow students to explore how they think about things, often through free association and an interplay of media. For details on these programs and links to software downloads, visit our digital resources page.
_______________________________________________________________________________________________
Digital Storytelling Workshop
January 21-22
In this two-day workshop co-sponsored with Digital Stories@UMBC, participants from UMBC and community partners learned how to conceive and execute their own digital stories. The workshop focused on story development in a group story circle, script writing and voice recording, digital editing and pedagogical tips. For digital storytelling resources, including open source programs, digital archives, and sample projects and assignments, visit the Digital Stories@UMBC resource page.
---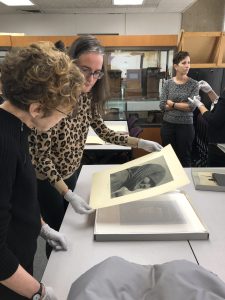 Picturing the City: Using Photography for Engaged Teaching and Learning
November 8, 2019
Local photojournalist and educator J.M. Giordano led a workshop at UMBC's Albin O. Kuhn Special Collections library, home to two million photographic prints as well as photography books and equipment. In collaboration with Beth Saunders, the curator and head of Special Collections, Mr. Giordano walked participants through his own pedagogical strategies for teaching photo history as well as the ethics of photographing within communities. Participants were also treated to highlights from Mr. Giordano's series of photographs capturing the collapse of the steel industry, which is the focus of his long-term, transnational project. Participants had the opportunity to browse dozens of photographs capturing domestic and international labor with foci on issues of reform as well as propaganda. For access to digitized and curated collections of UMBC's matchless photographic archive, visit the Digital Collections page. Here, users can access some of the materials used in the workshop, including work by Lewis Hine, the National Child Labor Committee, and historical photos of Baltimore.
---
Thinking Outside the Classroom:
Transforming Courses for Community Engagement
October 11, 2019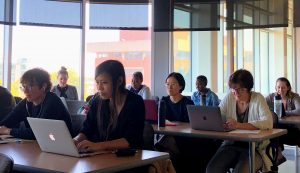 Dr. Earl Brooks and Dr. Jennifer Maher shared projects that resulted from their HTLab Course Transformation Grants. Dr. Brooks discussed how he uses sound in his rhetoric and composition course, "Sounds Like Social Justice" to empower students to become critical listeners and sound composers. Participants were able to experiment with the open source audio editing software Audacity in their own imagined course assignments as well as listen to some of Dr. Brooks's student projects. He also discussed how students in his transformed course research local nonprofits and community organizations in order to design sounds-based media for their websites or marketing materials. Dr. Maher shared the details of the community-engaged project that helped transform her course "Baltimore: Race, Rhetoric and Technology." Dr. Maher's class partnered with Community Closet, an organization that serves communities throughout Baltimore by hosting free pop-up clothing exchange; her students had a chance to run the pop-up during a community day as well as develop new promotional and branding materials for Community Closet. Dr. Maher also shared strategies for encouraging students to reflect on the spaces in which they moved, the people they met through community work, and their own assumptions and shifting perceptions of the city.
---
Creating Citizen Critics and Using Adobe Spark
September 27, 2019
In this HTLab, Dr. Eliseo Jacob led a workshop on using the free web-content builder Adobe Spark to engage students in social justice research and multimedia composing. Workshop participants learned about Spark's flexible and intuitive tools for creating flyers and web announcements, short videos, and high-quality multimedia essays. Dr. Jacob also shared an assignment for his Brazilian Hip Hop class, which asks students to create web essays (similar to blogs or digital journal articles) that incorporates images and video into their research-based analysis. You can find Dr. Jacob's assignment prompt and rubric on our resources page. He also shared strategies for encouraging student engagement with and peer review of each other's projects, including student-led comment boards that create a "proto-public sphere."
Dr. Jacob is Master Instructor of Portuguese in the Department of World Languages and Cultures at Howard University where his research and teaching interests include Afro-Brazilian literature and culture, urban space, the public sphere, and the digital humanities.