Digital Humanities and Difference in Research and Teaching
March 8, 2018

This HTLab explored how digital humanities research, tools, and methodologies can support inclusive teaching.
Keynote speaker Roopika Risam, Assistant Professor of English and Secondary English Education, Salem State University, discussed her current digital project, Mapping W.E.B. DuBois. This project combines sophisticated digital analysis of DuBois's literary works with approaches that support technological literacy.
UMBC humanities faculty panelists outlined their digital humanities research, how they integrate digital tools and methods in their courses, and how technology supports inclusive pedagogy. 
Drew Holladay, Assistant Professor, English, researches the role of language, rhetoric, and disability-rights activism in digital spaces, such as social media and discussion boards. He discussed work done by his students to develop a website and social media tool to destigmatize mental health issues on campus.
Tania Lizarazo, Assistant Professor, Modern Languages, Linguistics, and Intercultural Communication, uses digital storytelling methodology in her research and teaching about Latinx communities. She explained how digital storytelling, which involves close collaboration with storytellers, decreases editorial bias and encourages community engagement and trust.
Bryce Peake, Assistant Professor, Media and Communication Studies, uses big data methods for cultural analysis. In his course, "Bullshit and Big Data for Media Analysis," students use Python software to collect, analyze, and build an interactive ethnographic model to explore the rise of conspiratorial thinking in online communities.
Anne Sarah Rubin, Professor, History, and Associate Director of the UMBC Imaging Research Center, discussed a teaching collaboration with graduate history students and visual arts and computer science students to develop digital games about Civil War Baltimore. Students learned to use the online tool Twine to translate historical narratives into discrete decision-based events in order to develop game scenarios.
Read more about this HTLab here.
---
Frederick Douglass Day: Birthday Party for Frederick Douglass and Transcribe-a-thon
February 14, 2018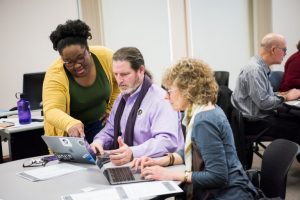 Although Frederick Douglass was born into bondage, and never knew his birthdate, he chose to celebrate every year on February 14th. In a spirit of radical love, we commemorated the 200th anniversary of Douglass' birth and Black History Month by joining a national event, organized by the Colored Conventions Project, the Smithsonian Transcription Center, and the National Museum of African American History and Culture, to simultaneously transcribe the Freedmen's Bureau Papers.

UMBC community members gathered in the Albin O. Kuhn Library Rotunda to read selections from Douglass's speeches and other writings and to share birthday cake. Following the public event, faculty, staff, and students participated in an HTLab on crowdsourcing and digital transcription projects for the classroom.

Anne Sarah Rubin, Professor, History, and Associate Director of the UMBC Imaging Research Center, shared her experience in developing a crowdsourcing project with her undergraduate public history students to transcribe the 1816 Baltimore City Directory. In the process, students learned how to collaborate to make archival materials publicly accessible. Graduate students are currently using this digital archive to build projects about early Baltimore.

After a brief tutorial, participants got their feet web by transcribing portions of the Freedmen's Bureau Papers. The project is ongoing and voluntary.
Faculty also received a resource with a variety of ongoing digital projects.
Read more about this HTLab here.